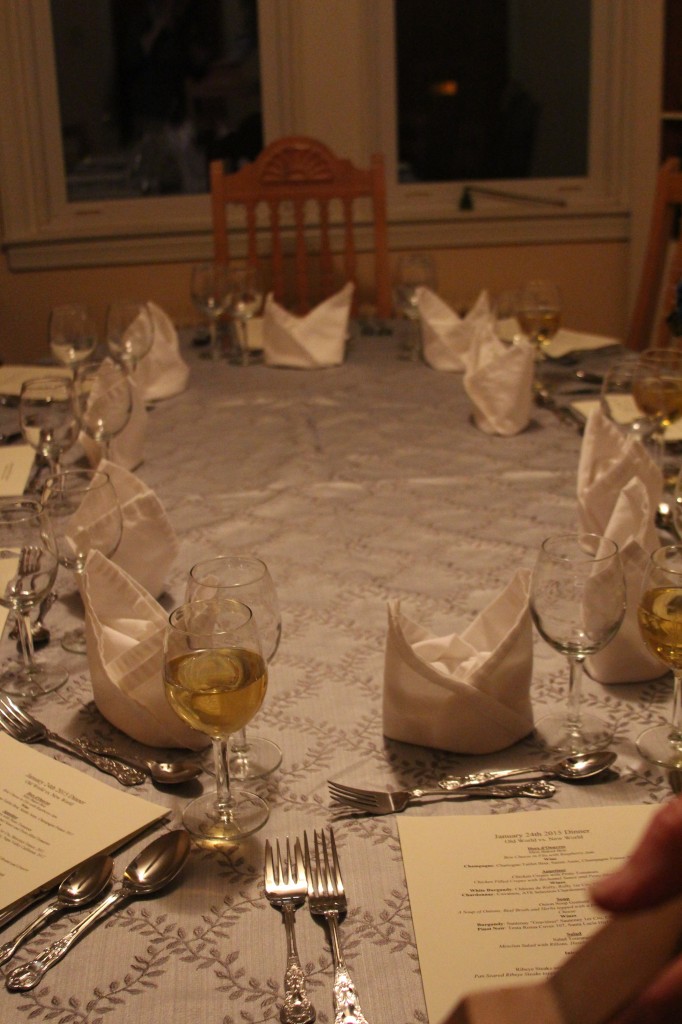 January 2015
The January dinner is always a special affair. We tend to go big and a little crazy, especially where the wine is concerned. The past two years we have had wines in the double digits; twenty-one the first year, and fourteen the second. We showed some restraint this year and managed to keep it to a mere nine.The theme for this year was Old World vs. New World. The food was all French and we paired each course with one wine from France and one from America.Normally, I spend quite a bit of time crafting a menu and working out the details. In this case, Cathy and I stood in the kitchen one evening and came up with it in about twenty minutes, including pairings. The menu included three things that I had never made or even eaten before so practice was definitely necessary.
None of the courses were particularly difficult to make, nor were they horribly time consuming to make. This gave us the opportunity to work on plating and presentation. It also gave us about three hours in the middle of the day where nothing needed to be done. You might think that was relaxing, but it proved to be horribly stressful. Apparently I like to stay busy when cooking.
The Menu:
January 24th 2015 Dinner
Old World vs. New World
Hors d'Oeuvres
Mini Baked Brie
Brie Cheese in Filo with Raspberry Jam
Wine
Champagne: Chartogne-Taillet Brut, Sainte Anne, Champagne France 2011
Appetizer
Chicken Crepes with Pesto Tomatoes
Chicken Filled Crepes with Béchamel Sauce and Pesto filled Tomatoes
Wines
White Burgundy: Chȃteau de Rully, Rully 1er Cru, Mercurey France. 2011
Chardonnay: Cuvaison, ATS Selection Chardonnay, Napa Valley California. 2012
Soup
Onion Soup Gratinée
A Soup of Onions, Beef Broth and Herbs topped with a French Bread Round and Gruyere Cheese
Wines
Burgundy: Santenay "Gravières" Santenay 1er Cru, Côte-d'Or France. 2000
Pinot Noir: Testa Rossa Cuvee 107, Santa Lucia Highlands California. 2012
Salad
Salad Tourangelle
Mesclun Salad with Rillons, Hazelnuts, and Aged Goat Cheese
Intermezzo
Entree
Ribeye Steaks with Basil Potatoes and Glazed Carrots
Pan Seared Ribeye Steaks topped with Roquefort Butter served with Basil Potatoes and Ginger Glazed Roasted Carrots
Wines
Rhône Red: Chȃteau de Nages, JT, Costières de Nîmes France. 2012
Zinfandel: Ravenswood Teldeschi Vineyard, Dry Creek Valley Sonoma California. 2012
Dessert
Biegnets
French Doughnuts served with Crème Anglaise and Chocolate Sauce
Wines
One of:
Port: Fonseca 20 Year Old Tawny Porto
Port: Graham's 10 Year Old Tawny Porto
The Analysis:
The initial plan for the hors d'oeuvres was to make fried brie balls. I started by rolling the brie into a ball and dusting them with almond flour. So far so good. I then dropped them into 350 degree oil and they turned into an oil slick. I have had some disasters in the kitchen, but they took the cake. We decided to go with the mini filo cups and fill them with the brie. It worked out quite well and went well with the champagne.
A word about the champagne; it is from a small producer in the Champagne region of France who bottles by both vintage and vineyard. It was neither the most glamorous, nor the most expensive champagne we have had, but in my opinion, it was the best. It was yeasty, nutty, and bone dry. I loved it.
Appetizer:
The Appetizer was the one dish I had nothing to do with. It was all Mr. Dr. and he did a fabulous job. The chicken crepes are something he has made before on special occasions and I knew we needed to share them with my family.
The wines could not have been more different. The first was a white Burgundy premier cru. It was aged in stainless steel and very crisp and delicate. The second was a Chardonnay from Napa Valley and was exactly what you would expect. It was big, bold, and oaked to within and inch of it's life.
I felt that at first taste, the Burgundy was the better wine, but once the food was introduced, the Napa Valley Chardonnay was the clear winner. The flavors of the Crepes was just too much for the more reserved Burgundy to handle.
Soup:
My wife loves French Onion soup. I had never had it until I made the test runs leading up to this dinner. I have been missing out.
For this iteration of the soup, we used the recipe she got from the CIA boot camp. It was amazingly simple, but with good quality ingredients it was delicious.
The wines were, again, quite different. Another French Burgundy, this time a red Premier Cru from Côte-d'Or. It had a very good balance of fruit and spice, and seemed to have aged fairly well over the past fifteen years. The California offering was very young and strong with good fruit and a bit more spice than I expected. I felt that each offering went well with the soup, but in very different ways. Most of the room preferred the California wine.
Salad:
Shockingly, the salad was the most complicated course to make this time. While the actual salad was simple, the rillons were not. I seared pork belly in duck fat until lightly browned, then braised them in a mix of duck fat, white wine, and herbs for two hours. Finally, right before serving, they were crisped again in a pan and served on the salad. Totally worth it.
It was the best salad I have ever had. Balanced flavors, fresh ingredients, and fried fat. We chose not to try and pair anything with this salad, instead asking people to keep their leftover wines from the previous courses and see what worked.
It all worked, but in different ways. The most shocking pairing was the rillons with the Napa Valley chardonnay. The combination tasted like nothing so much as peanut butter.
The Intermezzo was a Myer Lemon sorbet dropped into a shot of the Champagne. It was delicious and really cleaned the fat fried fat out of your mouth after the salad.
Entree:
So I managed to go through two years of these dinners without making Steak. I had to do it. The rib-eyes I got were amazing. They were thick and well marbled with fat. I did nothing to them but put a bit of olive oil and salt & pepper on them. They were then seared in a pan, finished in the oven, and then topped with a Roquefort butter. The Potatoes were made as normal, but I added basil that had been put through the food processor with a bit of olive oil. Finally, the carrots were peeled, tossed with salt and pepper and roasted.
The French wine offering was the best pairing of the French wines. It went shockingly well with each portion of the dish. Unfortunately, it was up against my favorite wine of all time. The Teldeschi from Ravenswood is not only good on it's own, it goes well with food.
Dessert:
Cathy has been talking about making Biegnets for the last year. We just never managed to make it happen. I regret every day that I wasn't eating a biegnet. They were light and airy and delicious. I made a creme anglaise and a chocolate sauce to go with them to add a bit of moisture to the dish.
There were two Tawny ports served with the dessert course. The first was a 20 year old Fonseca which was delicious. 20 years is about where the Tawny smooths out, but still has enough youth to go with sweets. I have no comment on the 10 year old Graham's because Molly became fussy and I took her upstairs where we both passed out.
Overall, I feel this dinner was a smashing success. Our skill at pairing wines is improving, and the menus are still fun and tasty. It was fun to work on the plating and presentation aspect of the food, something that has been a secondary consideration quite often.
Now, what to do next?
Pictures