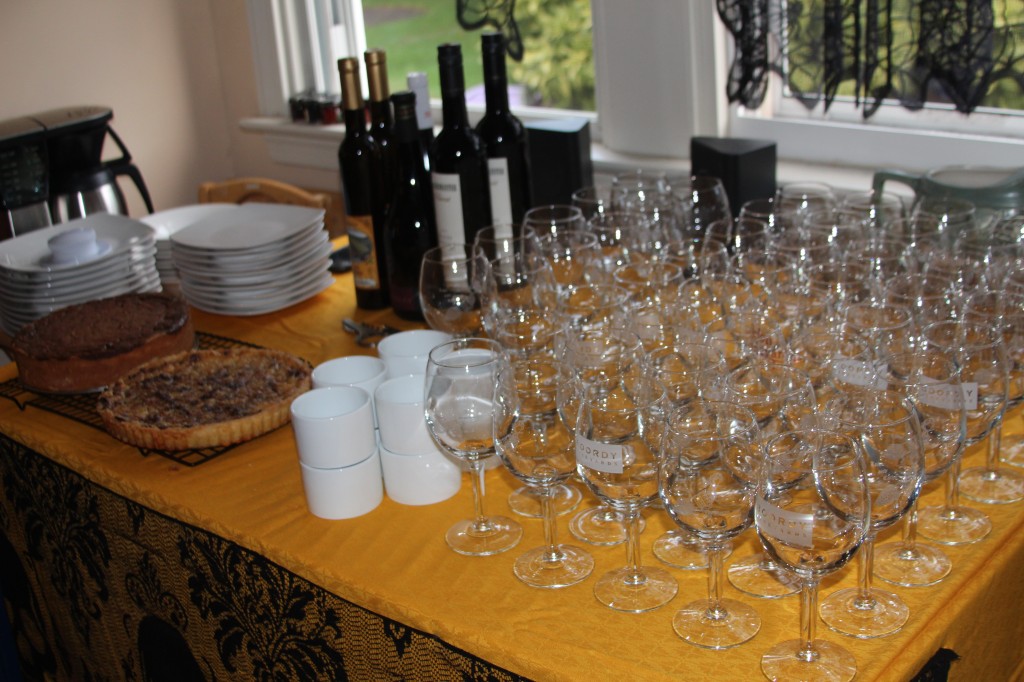 Fall is my favorite time of year. The leave change, the air gets crisp, and I have a good excuse to break out my hoodies again. Most importantly however, the Fall harvest is in.
For the October dinner, we looked to both the Fall harvest, as well as Oktoberfest for inspiration. We decided the wines would be based in Germany and Austria, but we would not be bound by that if a better pairing were available. As it turned out, the Turley Zinfandel was the only outsider (welcomed with open arms).
The guest list for this dinner was different than normal. We had the same core as usual: Cathy and I, Mr.Dr. and Sandy, and my Mom and Dad. Rather than bring in a sibling as normal, Grant and Trudie were invited along with my rookie Zach and his girlfriend.
Our last dinner was a bit light on courses, but heavy on food. For this dinner, we decided to go back to our multi-course platform. Here is the Menu:
Hors d'Oeuvres
Soft Pretzel and Bratwurst
House made Pretzels and Bratwurst served with Mustard and Onion Jam
Wine
Sekt, Henkell Trocken Dry-Sec, NV
Appetizer
First: Bavarian Zweibelküchen
Second: Swabian Zweibelküchen
An Onion pie with Bacon
Wine
Riesling, Maximin Grünhäuser Abtsberg Prädikatswein Spätlese, Mosel, 2011
Soup
Sausage and Fennel Corn Chowder
A soup of Sausage, Fennel, Corn, Red Pepper, and Potato finished with Cream and Thyme
Wine
Zinfandel, Turley California Juvenile, 2012
Salad
German Cucumber Salad
Sliced Cucumber and Tomato with a Sour Cream and Dill dressing
Wine
Grüner Veltliner, Pichler Loibner Klostersatz, Wachau Ősterreich, 2010
Entree
Wiener Schnitzel with Herb Spaetzle
Pretzel breaded Veal Cutlet served with German Pasta and a Fried Egg
Wine
Blauer Zweigelt, Kellermeister Privat, Niederősterreich, 2012
Riesling, Eifel-Pfeiffer Estate Collection Auslese, Mosel, 2012/2013
Dessert
Zinfandel Poached Pear Tart
A Shortbread Tart with Poached Pear and Wine Sauce
Wine
Riesling, Dr. Hans VonMüller Rheinhessen Beerenauslese, NV
Riesling, Műller-Catoir Rieslaner Beerenauslese, Pfalz, 2006
So, be honest, how many of you were trying to sound out the wine names? I know I just did and I wrote it. The important bit in the label of the German wines comes at the end; Spätlese, Auslese and Beerenauslese.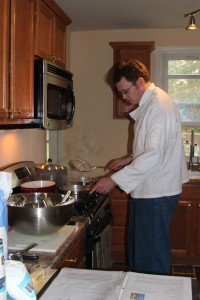 Spätlese means late picked. It is made from grapes that are allowed to hang a bit longer than normal and are a bit more ripe. Auslese means "out picked" or as we would say, selected. It is made from grapes that are picked when they are deemed perfect. It is considered a slightly higher designation than Spätlese. The last one we had was Beerenauslese. These are sweet, more desert style wines that are made in the same way as Sauternes. They are allowed to botrytize before picking.
Analysis
The Hors d'Oeuvres were very good. The pretzels were made the night before and were warmed before putting them out. They were perfect. Yeasty and salty with good chew. They went very well with the mustard. The Bratwurst was amazing. Sadly, I didn't make it. It was purchased from the Laurel Meat Market due to time constraints. The onion jam that went with it was delicious and was made by Cathy two days before and allowed to meld.
The wine was ok, however, since we have opened every dinner with sparkling wine, this one suffered by comparison. It was weakly flavored and lacked any complexity of either nose or palate.
Appetizer:
The Zweibelküchen was made by Mr. Dr. the day of the dinner. There were problems at every turn, and more than one new curse was invented during the construction of the dish. The end result was worth it. The two different styles were worlds apart. Though they both used onion and bacon as their flavors, they were about as disparate as possible while still having the same name.
The first Zweibelküchen was the more classic style. It was made almost like a bread and was flavored with caraway seeds (the same seeds in rye bread). The onions and bacon acted like a filling.
The second was more like a traditional Quiche. It had a more pie-like crust and the onions and bacon were loaded onto it.
The room was divided on which was better, though it seemed everyone enjoyed both of them.
The wine was one of the better Spätlese Rieslings I have had. It went very well with the Zweibelküchen and proved to be one of my rookies favorite wines.
Soup:
The reason we included "Fall Harvest" in the inspiration for the dinner was so we could include this soup. It first appeared in the first article on this blog dealing with the ZAP "Master course" we did in San Francisco. Had we gotten nothing but this soup recipe from the trip, it would have been money well spent.
We chose to pair this with a Zinfandel since that is how were first encountered the dish. I suspect this would have done well with an Auslese Riesling, but any excuse to include a Zinfandel in our dinners…
Salad: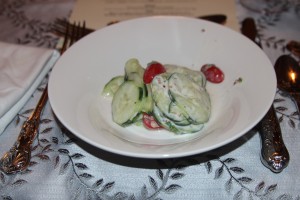 Finding a German salad proved to be a challenge. They are not particularly well known for their roughage. I could have gone with some sort of sauerkraut, but that seemed like a bad idea. Instead, I found this delightful salad.
The cucumbers and tomato salad proved to be quite refreshing at this part of the meal. Even with a reasonably heavy dressing on it, the freshness came through well.
The wine was a total hail-mary attempt at a pairing. It failed. Gruner Veltliner is my new go to white wine. It is crisp and sharp with good lime and pear flavors. It goes very well with spicier dishes and is awesome for Taco night.
I can tell you now, it does not go with Cucumber and Tomato salad.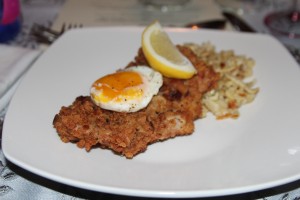 Entree:
Until the test runs for this dinner, I had never had Wiener Schnitzel. I had only had Spaetzle in passing as a garnish on other dishes. Clearly, I have been missing out.
During the test run for this dinner, we tried 4 different preparations of the dish, one with pretzel breading and no fried egg, one with pretzel and the egg, one with normal breading and no egg, and one with normal breading and the egg. The clear winner was the pretzel breading and egg. The pretzel breading adds a huge level of flavor to the dish and the egg yolk adds some much needed richness.
The Spaetzle was amazing. It is easy to make, but tastes like it took hours over a hot stove.
There were two wines paired with this dish. The Zweigelt was selected to pair with the Wiener Schnitzel and did very well. It is an Austrian red wine that is reminiscent of a Beaujolais, but with the cold weather flavors layered on.
The Riesling was added because of the way it paired with the Spaetzle. The Spaetzle and the Riesling together left a sweet rosemary taste at the end. It was lovely. The Riesling paired well with the Wiener Schnitzel as well and could have been the only wine provided, but we felt the Zweigelt was interesting and would be a new experience for most of the table.
Dessert: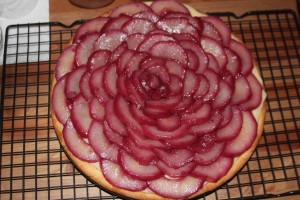 This dish was a total shot in the dark. We had never tried it prior to the dinner and had no idea how it would taste. We decided to put the poached pears on a base we knew worked, so Cathy made her shortbread tart crust and vanilla custard base. The pears were then poached in a mulled wine and layered on top. The mulled wine was then reduced and had a quarter cup of sugar added to it to make a sweet sauce. It was finished off with some whipped cream.
It was awesome. People were discretely licking their plates at the end. Zach had a very Oliver Twist look on his face when his was gone, "Please sir…."
The wine was very good. It went fairly well with the dish, but honestly could have been a dessert in it's own right.
Overall, the night was very successful. It was astonishing how good the food was and how well the wines went. As I said at the beginning, no one thinks of German food as fancy or special, but it is clearly very crowd pleasing. On Monday, Zach announced to me that this dinner inspired him to become a wine guy. Mission Accomplished.
Recipes:
Soft Pretzels Recipe courtesy of Alton Brown
http://www.foodnetwork.com/recipes/alton-brown/homemade-soft-pretzels-recipe.html
Cucumber and Tomato Salad
2 medium cucumbers sliced thin
20 cherry tomatoes halved
2 scallions thin sliced
Dressing:
1/4 cup sour cream
2 tbsp milk
2 tbsp white vinegar
1 tbsp good mustard
1 tbsp chopped dill
salt and pepper
– Whisk the dressing ingredients together and pour over the salad. Chill for 1 hour before serving.
Wiener Schnitzel
6 Veal Cutlets
1 cup flour
2 eggs
3 tbsp milk
1 soft pretzel
salt and pepper
Oil for frying
Lemon slices
– Cut the pretzel into small slices and toast in the oven. Put the toasted pretzel in the food processor and pulse until it becomes breadcrumbs.
– Salt and pepper the Veal Cutlets
– Prepare the dredge station with the flour bowl, whisked eggs and milk bowl, and pretzel crumb bowl.
-Heat the oil to 350 degrees, ensure the oil is deep enough that the cutlets will not touch the bottom of the pan or it may scorch.
– Dredge the veal in the flour and shake off excess, then egg and drain excess, then crumbs and press to ensure the crumbs stick.
-Put cutlet into hot oil and fry for about 1-2 minutes per side or until golden brown.
-Drain on paper towels
– Serve with slice of lemon.
Fresh Herb Spaetzle
Recipe at Epicurious.com
http://www.epicurious.com/recipes/food/views/Fresh-Herb-Spaetzle-234152
Once the spaetzle was boiled and solid, we fried it in butter and white wine until parts of it were golden brown.