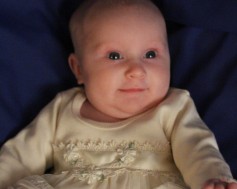 February Italian Wine 2014
One of the problems with planning a tasting dinner with a "go-to" cuisine, such as Italian, is to balance the comfort of familiar dishes with the challenge of unfamiliar and untried recipes. We were also faced with need to create parallel courses for a vegetarian and dietary needs that excluded dairy and onions. Given our collective relative lack of experience with Italian wines in general and pairing combinations, we relied heavily on generic descriptions on which to base our choices. Another handicap was that Cathy, the usual sous chef, needed to deal with my first grandchild, Molly (true but really just an excuse to include Molly's picture)
Menu:
Hors d'oeuvre
Brushetta with
Green olive tapenade
Tomato, onion, basil
Wine: Santa Margherita Prosecco
 Antipasta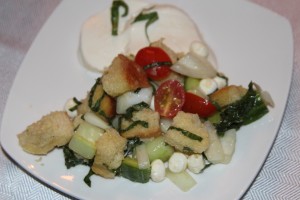 Panzanella (Bread Salad)
Wine:  Terredorra Greco di Tufo 2012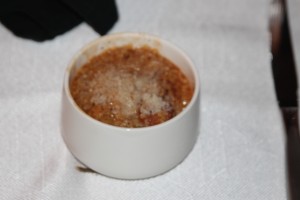 Soup
Pastina with sausage
Vegetarian Pastina soup (v,o,d)
Wine:  Masciarelli Marina Cvetic Montepulciano d'Abruzzo 2009
Primo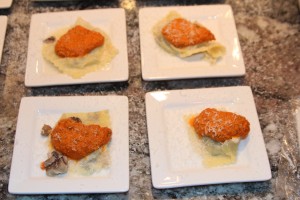 Ravioli mushroom with spicy sun-dried tomato cream sauce
Wine: Ruffino Chianti Classico Oro 2008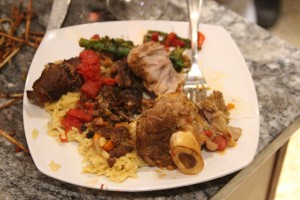 Secondo
Osso Bucco
Involtini of Beef
Apricot Mock Chicken
Wine:  Sordo Barolo 2009
Contorno
Broccoli rabe and roasted red peppers
Risotto
Dessert
Tiramasu
Trio of sorbets (Meyer lemon, blood orange, raspberry)
Wine:  Ratti Barbera 2011
Process:
Given the demands of our jobs and the presence of a new baby, we were less prepared than usual for the dinner. We had designed the dinner to include dishes that would bake so that the amount of just-in-time cooking would be minimized. The best laid plans…
We had initially planned on a dinner for 8 people but the day of the event ended up cooking for 12.  Most of the recipes are an amalgam of several similar recipes harvested from the web– nothing too far from fairly classic dishes.
As a result of all of these factors, the time in the kitchen was rushed, tense, and frustrating which in turn led to more mistakes and their resulting frustration.
Hors d'oeuvres were straight forward and presented little challenge. Because of time concerns, the pesto for the second set of brushetta was chopped in the food processor and left a little too long. The taste was excellent but the texture and color was more like a thin guacamole rather than the usual paste.
The soup was interesting. Up until the addition of the pasta stars, it appeared to be a typical broth soup. Addition of the pasta did little to change that until it was mixed just before serving. Suddenly, the pasta absorbed much of the liquid and remarkably expanded leaving a thick, stew-like dish.
The pasta dough proved to be extremely non-cooperative. Luke had made it in three small batches the night before. When rolled out using the pasta roller attachment for the KitchenAide mixer, the first batch behaved and using a manual ravioli form the initial ravioli were beautiful. Unfortunately, the other two batches were not so well behaved- crumbling, tearing and general cursing abounded for quite a long period. As a result, a smaller than planned number of ravioli were available.
The sauce tasted very good but appeared a little too chunky so we elected to puree it. This gave a very nice color and texture and the plated pasta with a grated Pecorino Cheese garnish was beautiful.
The involtini of beef was straight forward but fiddly.  We had the butcher thinly slice top sirloin just to save time. The only real issue with roll-up and pinning of the rolls with toothpicks (24 times) was keeping the long rolls tightly together through the searing phase. They had a tendency to gap and lose their filling. Cutting the 12 inch rolls in half seemed to alleviate some of those problems.
The broccoli rabe was easy and Luke has perfected the creation of risotto.
Analysis:
Although the cooking time was less than ideal, the final results were surprisingly good. The pairing of the prosecco with the brushetta was not much of a stretch and worked well.
The panzanella tasted good but, in retrospect, two consecutive bread heavy courses probably was not the best. It was suggested that the onion could have been diced much finer, perhaps a 1/4 dice rather than the larger pieces used. The white wine, made from Greco di Tufo grapes, was not a crowd favorite. Although described as high minerality with citrus overtones, it lacked the expected acidity and crispness need for the pairing.The soup was interesting. The pasta stars had an unusual texture but was very flavorful. The use of a combination of sweet and hot sausage worked well but the sausage pieces at 1 inch were probably a little too big. Cutting these into ½ or even ¼ would have been a better idea. The Montepulciano was a little more solid than expected and paired well the beefy stew.
The ravioli were superb, the only fault was the inadvertent need to serve only 1-2 smallish pillows per person. The Chianti, one of my favorites, was good on its own and nicely counter-balanced the very rich and earthy flavors. This was a good paring.
The Barolo was surprisingly reserved. Having expected a huge wine, this was lighter with nice fruit (cherry and berries) and earthy (smoky, leather). It paired well with the beef and extremely well with the osso bucco both of which were tasty and classic. The wine struggled, however, when faced with the somewhat bitter broccoli rabe and the relatively sweet mock chicken dishes.
Finally, the desserts were outstanding. Luke frequently makes Tiramisu and this was one of his best attempts. The Barbera wine had no business pairing with this but did so very well. Of the sorbets, the Meyer lemon was a huge success- sweet-tart and luscious. The blood orange was very tasty but a little icy in consistency. The raspberry was creamy and also a favorite. The "left-over" sorbet was added to prosecco (and later champagne) as a postprandial treat- very nice.
Recipes:
Panzella (bread salad)
Ingredients:
1 Tablespoon lemon zest
4 Tablespoons fresh lemon juice
4 cloves garlic finely minced
1 Tablespoon white balsamic vinegar
1 teaspoon salt
½ teaspoon pepper
1 cup citrus infused olive oil
½ Loaf crusty Italian bread, cut/torn into ¾ inch cubes and pieces toast in 300 degree oven 5 minutes
2 pounds cherry tomatoes halved or quartered depending on size
2 medium cucumbers, peeled, seeded cut into ¾ inch dice
1 large Vidalia onion chopped
¾ cup basil leaves, chiffonaded  (1 large bunch)
Salt and pepper to taste
 Directions:
Place first 6 ingredients in a blender and mix. With the machine running, slowing add the oil to form a well incorporated vinaigrette.
Mix the bread pieces with half of the vinaigrette and let sit for 15-20 minutes.
Mix the rest of the ingredients (tomatoes, cucumber, onion, basil and seasoning) with the remaining vinaigrette 15-20 minutes.
Mix the bread and vegetables and let the ingredients meld for 1-24 hours.
Pastina Soup
Ingredients:
1½ pounds mix of hot and sweet Italian sausage, case removed and sliced ½ inch
2 Tablespoons olive oil
12 cups beef broth
2 carrots, ½ inch dice
2 celery stalks, ½ inch dice
1 onion, ½ inch dice
3 cloves garlic, finely minced
14 ounce can, peeled tomatoes
¾ cup white wine
1 pound pastina (stars) pasta
Directions:
Heat oil over medium high heat in skillet and brown sausage.
Remove sausage and sauté the carrots, celery, and onion until translucent, about 5 minutes.
Deglaze the skillet with the white wine and add the vegetables and sausage to a stock pot.
Add the broth and bring to boil over high heat and add pasta.
  Cook for about 8 minutes until the pasta is cooked through and serve with parmesan cheese grated on top.
Mushroom Ravioli Filling
Ingredients:
1 ounce dried porcini mushrooms
1 cup hot water
¼ cup olive oil
2 medium shallots, finely chopped (¼ cup)
¼ cup coarsely chopped fresh flat-leaf parsley
2 pounds assorted fresh mushrooms, such as button, cremini, and shiitake, brushed clean, trimmed, and coarsely chopped
½ cup freshly grated Parmesan cheese, plus more for serving
½ cup ricotta cheese
1 teaspoon coarse salt
½ teaspoon freshly ground pepper
Directions:
Soak porcini mushrooms in the hot water for 30-60 minutes, remove mushrooms and strain liquid through a fine seive. Reserve ¼ cup of liquid and chop mushrooms.
Heat the oil over medium hot heat and cook the shallots, until translucent, about 2 minutes.
Add the parsley, fresh mushrooms, and the reconstituted porcini  mushrooms.  Cook until mushrooms until relatively dry, stirring frequently, about 10 minutes.
Add the ¼ cup reserved soaking liquid. Cook, stirring, until liquid evaporates, about 5 minutes more.
 Transfer to a bowl, and cool briefly before stirring in Parmesan and ricotta. Season with salt and pepper.
Slightly modified from http://www.marthastewart.com/317919/mushroom-ravioli
Sun-dried Cream Sauce
Ingredients:
1 tablespoon olive oil
4 large garlic cloves, finely chopped
1 cup chopped drained oil-packed sun-dried tomatoes
1 cup whipping cream
1 x 7.25-ounce jar roasted red peppers, drained, chopped
½ teaspoon dried crushed red pepper
1 cup chopped fresh basil leaves
1 cup freshly grated Parmesan cheese
Directions:
Heat oil in heavy medium saucepan over medium heat.
Add garlic; sauté 1 minute.
Add tomatoes, cream, red peppers and crushed red pepper; simmer over medium heat 2 minutes.
 Stir in ½ cup basil and simmer 1 minute longer.
From: http://www.epicurious.com/recipes/food/views/Pasta-with-Spicy-Sun-Dried-Tomato-Cream-Sauce-104054
Osso Buco
Ingredients:
8 veal shanks, 3 inches thick
Flour for dredging
½ pound Pancetta
1 large carrot, ½ inch dice
1 large onion, ½ inch dice
2 stalks celery, ½ inch dice
1 clove minced garlic
1 cup dry white wine (we used pinot grigio)
2 cups homemade beef stock
1 x 14.5 oz can diced tomatoes
1 Tablespoon tomato paste
Bouquet garni (sprig each of fresh rosemary, thyme, Italian parsley and bay leaf with 3 whole cloves in cheesecloth packet)
Gremolata
 ½ cup chopped Italian parsley
1 clove minced garlic
1 Tablespoon lemon zest
Directions:
Tie the meat of the shanks to the bone using kitchen twine and pat the meat dry.
Render the fat from the pancetta in a Dutch oven over medium high heat until crispy, about 5 minutes and remove the meat.
Season the shanks with salt and pepper and then dredge them in flour, shaking off the excess.
Brown the shanks in the hot pancetta fat over high heat until brown- 3-5 minutes per side and then remove to plate.
Add the carrot, onion, and celery to the pan, season with salt and a little pepper, and sauté about 8 minutes until soft.
Deglaze the pan with the wine and heat until almost evaporated.
 Return the shanks to the pan and add the tomato paste, the diced tomatoes, the minced garlic, the beef stock, and the garni bouquet.
Reduce heat to simmer and cook 1½- 2 hours until meat is extremely tender, turning and basting every 15 minutes.
Mix the gremolata ingredient together in a small bowl.
Remove the shanks from the pot and cut off the twine.
Remove the garni bouquet and pour the vegetables and sauce over the meat and garnish with the gremolata
Involtini of Beef
Ingredients:
16 x 2-3 oz thin slices of top round/ sirloin
16 slices prosciutto
6 peeled carrots, ¼ inch dice
2 large onions, ¼ inch dice
11 cloves garlic, finely minced
¾ cup olive oil
½ cup butter
1 cup grated Parmesan cheese
2/3 cup bread crumbs
½ cup pine nuts
6 shallots, thinly sliced
½ cup raisins
½ cup red wine
2 x 14.5 oz cans of diced tomatoes
Directions:
Heat oven to 325 degrees F.
Over medium high heat in a Dutch oven, melt 3 tablespoons butter and 3 Tablespoons oil. When hot, sauté carrots, onion and ½ of the garlic until translucent and tender.
Combine the cooked vegetables, cheese, bread crumbs, pine nuts, and ¼ cup olive oil in a bowl.
Lay the beef slices flat and cover with prosciutto slice.
Divide the filling mixture equally among the meat slices placing it in a line in the center of each slice and roll each slice tightly around the filling, folding in the sides in and securing with 2 toothpicks.
Add an addition 3 Tablespoons butter and 3 Tablespoons oil to the Dutch oven over high heat and brown all sides of the meat rolls, about 3-4 minutes per side, remove to plate.
Add the shallots and remaining garlic to the hot pan and stir 2-3 minutes until soft.
Deglaze with the red wine and reduce by half.
Add the meat rolls back and add the canned tomatoes
Heat in oven 1 ½ to 2 hours, until meat is tender and the sauce is thick.
Broccoli rabe and Roast Red Peppers
Ingredients:
1 bunch trimmed broccoli rabe
3 Tablespoons olive oil
5 cloves garlic
2 red roasted peppers, drained and chopped
1 Tablespoon fresh lemon juice
2 Tablespoons Parmesan cheese
Directions:
Bring a large pot of lightly salted water to a boil. Add the broccoli rabe, and cook uncovered until the stems are tender, about 5 minutes. Drain in a colander.
Heat the olive oil in a large skillet over medium heat. Stir in the garlic, and cook until tender, about 1 minute. Add the broccoli rabe.  Cook and stir until the broccoli rabe has been cooked to your desired degree of tenderness, about 5 minutes for soft.
Stir in the roasted peppers until heated, then remove the skillet from the heat, and stir in the lemon juice.
Sprinkle with Parmesan cheese to serve.
http://allrecipes.com/Recipe/Broccoli-Rabe-with-Roasted-Peppers/Detail.aspx?event8=1&prop24=SR_Thumb&e11=broccoli%20rabe&e8=Quick%20Search&event10=1&e7=Home%20Page